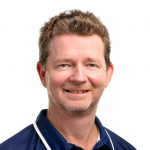 TRAINER: IPv6 Deployment
Dave Phelan has been involved in Networks and Infrastructure for longer than he can remember.
Leaving the hectic operations world behind 3 years ago, he is now a Senior Network analyst and Network Operations trainer at APNIC.
His Previous roles have seen him at Managed Service providers and ISPs for most of his career, and he has touched, broken and fixed more things than he cares to remember.
Ask him about the importance of the word "ADD"
In his spare time he likes indoor skydiving, playing with fun electric water based toys, as well as the odd paddle out in the surf.

The only social media he usually hangs out on is twitter(@lostdave_98) and can be found there interacting on his favourite topics (IPv6 and RPKI).